Travel Resources
Just as we love to take in all of the elements traveling the open road have to offer, a lot of that enjoyment stems from sharing those experiences and inspiring you to get outside yourself. Here are some travel resources we hope will help you plan your adventures as well as guide you out on the trails.
RESOURCE CATEGORIES
Trip Planning
10 Tips for Desert Expeditions
Preparing for Multi-Day Desert Hikes.
Looking to go hiking in the deserts of lower Utah; or maybe those of Nevada? Or even some of the hot areas of Wyoming or eastern Oregon? Spend a few minutes with our 10 tips to help make your expedition a successful one.

#1. Time of year

You may have guessed, but the best time for beginners to frolic about the desert is early Spring: either early- or mid-March depending on the predicted weather, of course. Early Fall is also a great time to see fall colors: September. Keep in mind that the desert, like anywhere, can get very cold after sunset; so much so that hypothermia can be a real danger. Be sure to pack the appropriate gear to keep yourself warm during the night and cool during the day.

See Tip 10

Safety is a priority when doing any trip; a good hiking buddy can be the key to getting out of whatever rut you may be stuck in... Cell phone service is spotty to non-existent in these remote areas.




#3. Snack-Attack

Costco is your friend. And don't be afraid to buy enough to have a stash of heat-resistant snacks (and of course, lots of extra water) in the car for when you get back after hiking.




#4. Cairns

If the area you are exploring is without trails and uncharted, don't under-estimate the importance of building your own guide-post cairns; especially while traveling through the winding gulches which can be easily disorienting. Be sure to knock them down as you return; Leave No Trace principles apply here as in all back country.


#5. Pack Half


When hiking the sandy dunes or many lake beds, keep in mind you have to schlep all your gear about with you. Bringing less is better as long as you

know and

pack the essentials, especially water.

For example, a compass is always a good thing to have.

Don't over-pack!

See Tip 10


#6. Extra batteries

Soon enough if not already, you'll learn that packing extra batteries is always a good thing. They will really easily fit at the bottom of your pack. Now you may be thinking "we're not going to take that many photos"---simply put, you'll surprise yourself, especially in places like Zion or Arches where there's a post card waiting every 20 feet. Even though batteries and electronics are getting better, after a day and a half hike through the sun and 250 photos later; you'll be surprised to see only a quarter battery left to use over the next two days of the trip. Good thing you packed extra! And take extra batteries for your headlamp too -- you may find yourself wanting to do more hiking

in the cooler dark than you originally estimated

, especially if you're on the way out and low on water.


#7. Double Check Local Conditions

We recently bought a guide book for a hike in the hot, dry country of the Bighorn Canyon National Recreation Area in Wyoming from their visitor's center. The book described what we were about to tackle as an 1.8 mile round trip with 250 feet of elevation gain. We went out with appropriate water and expectations, only to find the guide book was dead wrong -- it was over 2 miles ONE WAY -- and 1,300 feet of elevation gain. We forged ahead for a while, but finally just turned around in the face of the fact that we were getting dehydrated enough to be concerned. After we got back to "4G" territory, we looked at a couple alternate internet sites and found out "The Truth" about the distance and conditions. Any hotter, or any more stubborn, and it wouldn't have been pretty.

Weather miles away from your hike can have disastrous results. Rain from nearby mountains roaring down the canyons in the lower desert has killed many a hiker. So be aware!

See Tip 9



#8. Tires -- Better to Drive Out Than Walk Out

Often, good desert hikes start at the end of long dirt roads. Have a spare tire, check it before you leave, and know how to change a flat. And double-check your jack and jack handle (horrifying stories abound of having a jack and no handle) , know how and where to place the jack under the car or truck, and be sure to "chock" the tires that aren't flat with big rocks so your rig doesn't slide forward or backward off the jack.



#9. Weather You Can't See Can Kill You

In 2015, 16 people died in slot canyons in Utah from storms that were miles away and far out of sight.

Craig Childs

has written an excellent book on these kinds of deadly flash floods called "The Desert Cries" and another engrossing book on the desert and water called "The Secret Knowledge of Water." We have both read and highly recommend them before you start out on your desert exploration.

#10. Supplies
Weight is a very important factor when doing any long hike, but that fact can be especially true as you transverse the unforgiving terrain. Here are a few supplies we highly recommend:
Carbon Water filter (with a hand-pump) - This is absolutely,100% essential. The still and stale water you may find throughout the desert is a sure way to get sick if you don't filter it. I'd even go as far as to recommend a hand-pump, because then you don't have to worry about electronics; only your own clumsiness. Make sure to get a high-grade carbon filter to keep out those pesky bacteria.
Small hiking Headlamp - If on one of your day hikes you miscalculate the time it takes to get back to your camp, you may very well find yourself walking in the dark searching for your camping spot. Furthermore, it is a nicety when you're trying to set up your miniature propane camp-stove and other things after a long day of hiking. Pack extra batteries.
GPS System - Many desert canyon areas are very convoluted; trails can disappear in high wind and flash floods, and after crossing two- or three nearly identical ridges, you can become disoriented. Take a GPS and know how to translate what it's telling you to a topo map of the area.
Google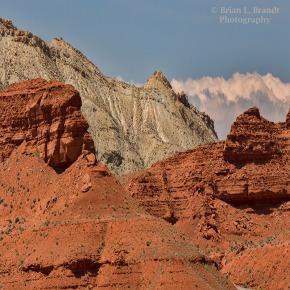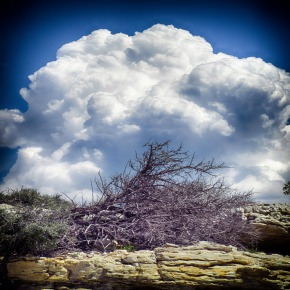 Travel Tips
Don't Forget Your Towel
By Adams, Douglas
A towel … is about the most massively useful thing an interstellar hitch hiker can have. Partly it has great practical value — you can wrap it around you for warmth … More importantly, a towel has immense psychological value. For some reason, if a strag (strag: nonhitchhiker) discovers that a hitchhiker has his towel with him, he will automatically assume that he is also in possession of a toothbrush, washcloth, soap, tin of biscuits, flask, compass, map, ball of string, gnat spray, wet-weather gear, space suit etc., etc. Furthermore, the strag will then happily lend the hitchhiker any of these or a dozen other items that the hitchhiker might have accidentally "lost."
Useful Links
The Hiking Project
Hands-down BEST hiking website ever
When it comes to hiking trails, your average GPS source just will NOT cut it. Google Maps can tell me where the nearest burger joint within three miles of me, open until 1:20AM is, but can't seem to utilize the same technology for those of us who travel on foot through thick foliage, thousands of feet above sea level.

The Hiking Project by REI is amazing. They utilize Google's imaging technology but then add hiking trails, with milage, photos and reviews! Now I can plan out my hike before I leave.



The Hiking Project
Local Knowledge
Bozeman Oil and Vinegar
So Yummy!
This is the best place to buy custom brands of olive oils and vinegars in Bozeman.

Bozeman Oil & Vinegar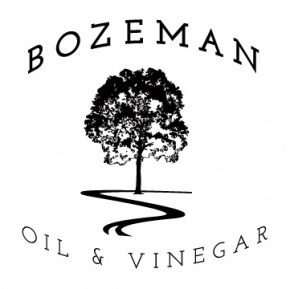 Travel Equipment
DeLorme InReach Explorer
Navigate, create waypoints, log your trip and find your way back. Send and receive text messages. Trigger an interactive SOS. Plan, track and share your journey. You can do all of this from one rugged handheld device with 100% global coverage from Iridium. You can also pair it with your mobile device to access topographic maps and U.S. NOAA charts.



satphonestore.com

Photo Equipment
Canon EOS 7D
The EOS 7D and 7D Mark II are excellent additions to Canon's range of APS-C DSLRs that is, in terms of build quality, speed of operation, ergonomics and image quality, a cut above Canon's previous APS-C flagship, the EOS 50D.

In some respects the 7D is even a better camera than the EOS 5D Mark II and a viable alternative for all those who do not want or need a camera with a full-frame sensor. Its eight frames per second continuous shooting speed and highly flexible AF system might even make it a consideration for credit-crunch battered sports photographers on a budget.

The EOS 7D's specification and current pricing make it also look very good next to its most direct competitor in the enthusiast bracket of the market, the Nikon D300S. It offers a higher nominal resolution and maximum sensitivity, better movie mode specification and slightly faster continuous shooting speed than its Nikon rival; but having said that, in many ways the two cameras are not too dissimilar, and it will be down to personal taste and probably your lens collection if you prefer one over the other.

Buy from B&H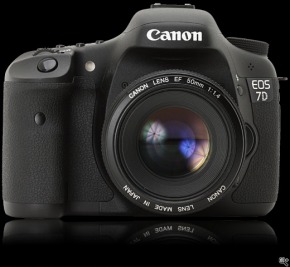 Nikon D7500 with 18mm to 250 mm lens Bundle
D7500
The argument over cameras fills dozens of blogs. And it's fairly easy to do some of your own research. But if you are looking for a decent DSLR (Digital Single Lens Reflex) camera, (a healthy step up in photo quality from a point and shoot) this one makes a good "walking around" and general purpose camera. With the 18 - 250 mm lens you can get a lot of work done with just one lens. Be sure to check out bundle offers on any camera -- sometimes you get an external flash, memory cards, filters, extra lenses and other goodies tossed in for way less than they would cost to buy individually. Some of the key parameters that end up mattering include:
Effective: 20.9 Megapixels -- big enough to comfortably blow up photos to 16 x 20 or larger depending on the quality of the shot.

Shoots both JPEG and RAW -- jpeg if you want to go straight from camera to Facebook, RAW if you edit with Photoshop or other software -- RAW gives those programs "more information" to work with.
Image stabilization -- yes it has it; great for shooting after three cups of coffee or when birds won't hold still.
ISO at



100-51200. Nice to have the higher end -- be aware that ISO north of 3200 or so will look like a picture of lint.

8 frames a second when you hold the shutter down while panning with a bird or a Ferrari. It's not the 12 or 14 frames a second of a pro camera, but it's not $6k either.

Built in Flash -- for that 95 percentile when you don't have time to clamp a flash in your hot shoe.

4K Video recording at 30 frames a second. Meaningless if you don't shoot much video, pretty important if you do.

Shutter Speed --



30 seconds to 1/8000 of a second. Slow enough to blur a waterfall into silk, fast enough to freeze a hummingbird.

Crop Frame Sensor -- important in that you multiply the effective focal length of any lens you buy by 1.5, which means when your lens says, "I'm 100mm" you are actually seeing what would look like a frame from a 150mm lens on a film camera. (some of you may have heard your grandaddy talk about film.) If you get the

18 - 250 mm lens, it's c

omparable to a 35mm - 375mm lens.

Control over the meter system -- you have flexibility in how to set the focal area -- nice for tracking moving subjects at one end and for shooting macro at the other.
.


Bozeman Camera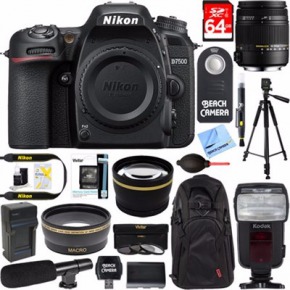 Staying
We review all manner of places to stay, places to eat, and things to do on TripAdvisor. Here's a link to our reviews there:
Our TripAdvisor Reviews
Fairmont Hot Springs, MT
We give the Fairmont Hot Springs Resort an enthusiastic "4
roses." The facility is completely smoke-free; the rooms are spacious;
the pools are accessible from the hotel and free for guests; suite and
kitchenettes are available; the restaurant is very good. President
Obama stayed there during a campaign stop in Butte in 2008; there's now a
suite bearing his name.

The packages are very nice and a great value -- we had a welcome basket,
champagne with glasses, dinner for two, and pool access.

However, the resort does not take pets.

Check their website for all the details including pictures of the
rooms. www.fairmontmontana.com

-- Louise

text copyright GoinMobyle, LLC 2009
Microtel Inn, Colorado Springs, CO
We give the Microtel Inn of Colorado Springs a solid "4
roses." The room design is delightful -- compact and complete -- and
reminded us of Gasthaus rooms in Germany. The bed was very
comfortable. The friendly and helpful desk staff welcomed Leesha; she
liked the room, too. It's hard to believe you're in an economy hotel.

Check their website for all the details and to make reservations. www.microtelinn.com

-- Louise

text copyright GoinMobyle, LLC 2009
Chubbuck, ID Motel 6
A Safehaven for late-night Continental Divide Drivers
There's nothing that gets your adrenaline pumping much like a late-night drive across the Continental Divide in mid-November...alone. For those who enjoy that sort of thrill-ride, the Chubbuck, ID Motel 6 truly is your port-in-the-storm. There was no greater relief than pulling into their ice-crusted driveway and taking temporary residence in the paper-thin chartreuse walls that enveloped me in their warm embrace.

No continental breakfast, but the gas station across the street will provide you with a shrink-wrapped meal for champions...or at least for those who have to drive the span of Nevada before sundown.

They do allow dogs, free of charge, but the walls are so thin, she'll keep you up all night from every. Little. Noise.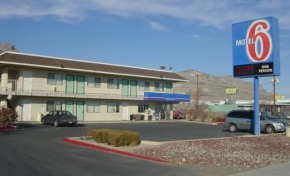 Loveland, CO La Quinta
La Quinta in Loveland, Colorado was a great spot to stay because …….

www.laquintaloveland.com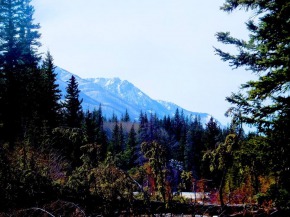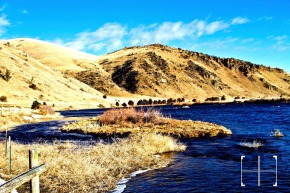 Comfort Inn, Buffalo, WY
This little motel is located on I-25 on the eastern edge of
Buffalo, WY. We give it "three roses." The staff is welcoming,
helpful, and friendly. ALthough there were no gluten-free cereal
choices for breakfast, the menu included hot waffles. The breakfast
room is bright, clean, and cheerful. The little swimming pool is clean.

However, the beds are very hard!! And the in-room heater was difficult
to adjust -- either cool or hot, no nice warm. They welcomed Leesha for
an extra $10.00.

-- Louise

text and photos copyright GoinMobyle, LLC 2009
Eating
We review all manner of places to stay, places to eat, and things to do on TripAdvisor. Here's a link to our reviews there:
Our TripAdvisor Reviews
The Happy Isles Ice Cream Stand
Something cold before your hike.
Happy Isles Ice Cream Stand is literally the greatest thing. It's an ice cream stand. At the trailhead. Of the John Muir Trail.

Just hiked 14 miles through the backcountry, and what do you want to do while waiting for the shuttle back to your campsite? Devour an ice cream cone. There's no greater thing.

The reason I gave it four stars is because I wish it were open longer -- peak summer hours only.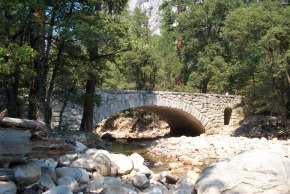 Seeing
We review all manner of places to stay, places to eat, and things to do on TripAdvisor. Here's a link to our reviews there:
Our TripAdvisor Reviews
Denver Mint
Fun place to visit. Check to see if they are open to the public as they sometimes have unscheduled closures for security reasons.

Denver Mint Website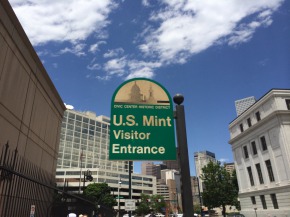 Yellowstone National Park
Pretty, but the cows were NOT friendly.
Yellowstone National Park was pretty cool. Rained a lot, even though it was August, which I felt wasn't fair. Had to buy a bunch of new clothes at the gift shop because all I had packed were shorts.

I think maybe they should open a freeway through the park, as we were sitting in traffic for a LONG time. They did that in my town and it really helped. People who need to get places should not have to sit in traffic!

Also, could not find Half Dome.



Yellowstone National Park Website