Out to Visit Uncle Bill, by Brian and Louise: Louise wanted to "go see Uncle Bill" -- a life-long cowboy on the Flying D ranch at Spanish Creek not too far south of the mouth of Gallatin Canyon. It's now owned by Ted Turner and home to a sizable bison herd.

Uncle Bill passed away in 2008 and is buried in Mountain View cemetery on a hill overlooking Baker Creek and Camp Creek outside Manhattan -- a cemetery Louise's grandfather helped found. So we loaded up with my brother, Allen, under cloudy skies, bitter cold, and threat of snow and decided to do a "meander' to the cemetery and back via back roads across the Valley. Luckily there is still enough gravel to attract the 4-Runner around the Valley, and we found some of it along with some roadside attractions on the way.

We headed out of town on Huffine Lane (US HWY 191) to Four Corners and continued west on MT HWY 84 to Shed's Bridge. Then came the gravel on River Road along the west bank of the north-flowing West Gallatin River.

Cameron Bridge Adventures, by Louise: I spent many happy, scary, and embarrassing days at the Cameron Bridge as a teen-ager. We swam there in the summer, and once I stepped off the edge of an underwater cliff into water well over my head and was swept downstream. The bad part was the diving mask I was wearing filled with water, covering my nose. My uncle Dwight noticed I was in trouble and waded out to get me -- the water wasn't over his head! So there I was, cold, scared and sneezing river water out of my nose.




A bit further upstream, my cousins and I used to wade out into the river at full spring flood and throw ourselves into the current. We body-surfed, Montana style, down to an irrigation diversion dam where we grabbed the overhead bar to haul ourselves out. What a blast!! By the way, this is one of those escapades you don't tell your parents about until your're over 40 at least.




In winter, we ice skated on overflow ponds near the bridge and built roaring fires with cottonwood to stay warm.




The embarrassing moment occurred on a summertime inner tube float with a girlfriend down the river. I had taken off my shirt to "soak up some rays" and was floating in my lacy yellow bra. Suddenly I was caught by a current I couldn't paddle out of and was deposited at the feet of a startled fly fisherman. Wide-eyed and laughing, he gave me a shove back out into the main current. I grew up with the West Gallatin and love the cottonwood forests along its banks and the spicy smell of their fallen golden leaves in fall.

Meanwhile, Back in Winter: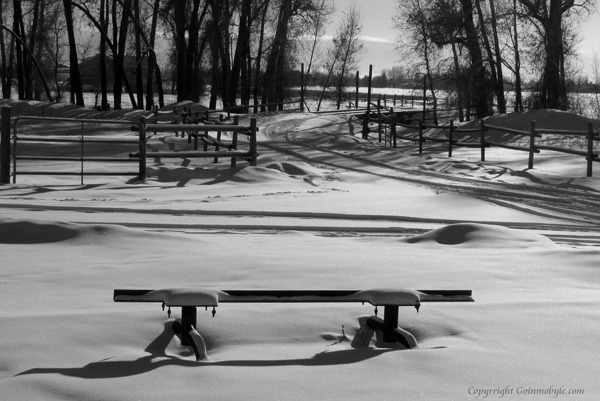 Meadow View Cemetery:
Uncle Bill is buried with his beloved wife, Miriam, on the hill above Baker Creek at Meadow View Cemetery. They designed the headstone themselves to showcase their talents and interests. Obviously this picture was taken the summer before when there was sun; Leesha was still with us, and before Bill's date of death was chiseled into the stone.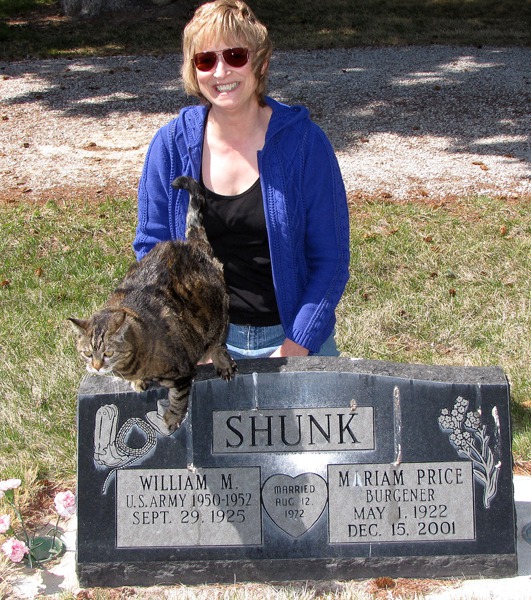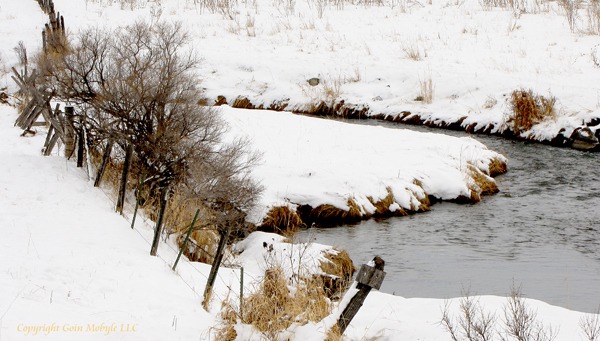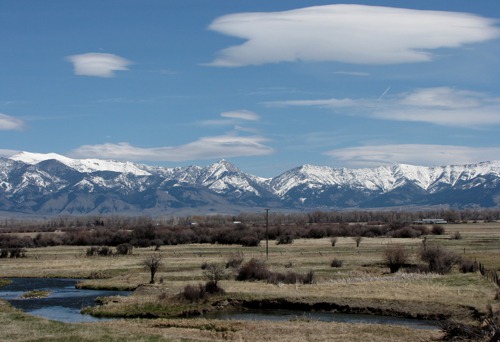 Uncle Bill's View (from the previous April)