A New Way Home from Minneapolis, June 2011: We left Minneapolis after a family wedding with the idea that we were going to drive home to Rapid City that day, but we just couldn't bear it. So we went off on US HWY 212 west out of Minneapolis with a new goal of getting all the way home sans freeway.




On US HWY 212 we went through a number of small towns and past lakes galore.

Sassy is our new traveling cat. Our precious Leesha had died in August the previous year, and Sassy unexpectedly appeared in our lives that October.

Sassy's First "Big Out:" It was Sassy's first "Big Out," and she was handling it with aplomb, aside from what she had to say at the start of the day. We stopped alongside the highway at a lake -- one of so many in Minnesota, and she got a first-hand look at a huge pelican and a feral footloose goose.

Of course, it didn't take any time at all for Louise to find gravel -- the Minnesota River Valley Scenic Byway along the river and sites of the US-Dakota War of 1862. Not bad with only a highway map as a guide! Our trusty atlases were at home since we hadn't planned a scenic trip.




At the intersection of US HWY 212 and MN HWY 4, US HWY 212 was closed! So to the map and the scenic byway. Off we went south on MN HWY 4 to MN HWY

19 and Morton.




We decided to take a break at the Lion's Park in Morton and let Sassy get out and stretch on her leash -- a new stage in her portability quest. She did a great job for a first-timer on a leash.




A Little Piece of Morton: The guidebook - Pathways Through Minnesota - says "Every major city in the United States has a little piece of Morton. This scenic Minnesota River Valley community is the source of Rainbow Granite, one of the oldest and hardest stones known, and a preferred building material for hundreds of major municipal and private buildings nationwide." Unfortunately, the guidebook was at home, and we didn't find out until we got home that we had missed the granite!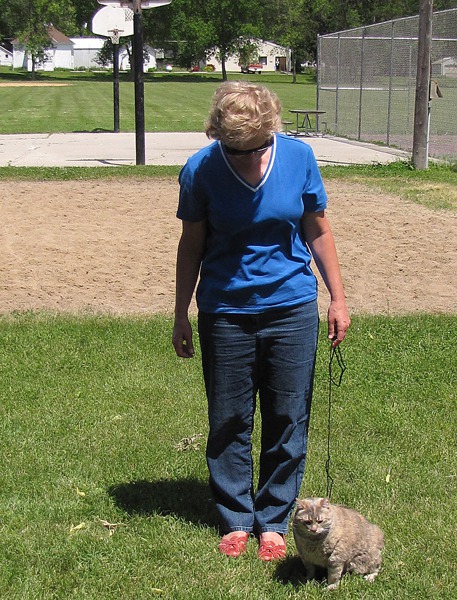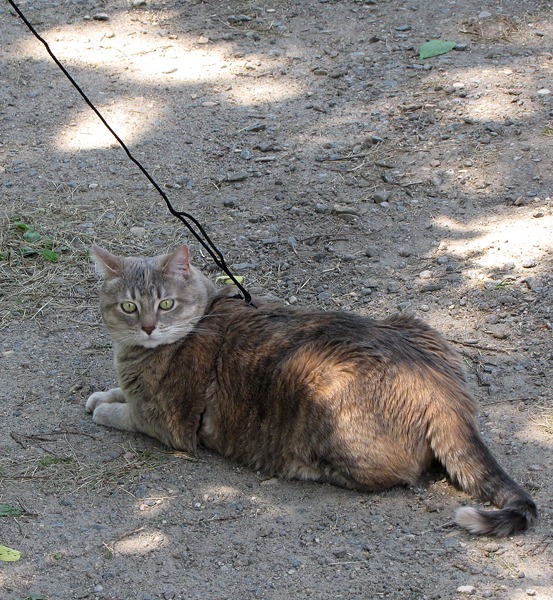 As we learned with Leesha, our previous Porta-Cat who left us about eight months ago for that big mouse fest in the sky, "portability" and "cat on a leash" are measured in meters, not kilometers. But just staying in the leash without doing one of those "cat-fury-ball-up-and-yowl" reactions that some cats engage in when leashed was a big win. And well deserving of a pet.
Minnesota
River Valley Scenic Byway: Sassy lives up to her name at times, and all of this is totally new to her. She sniffed and looked and seemed to enjoy.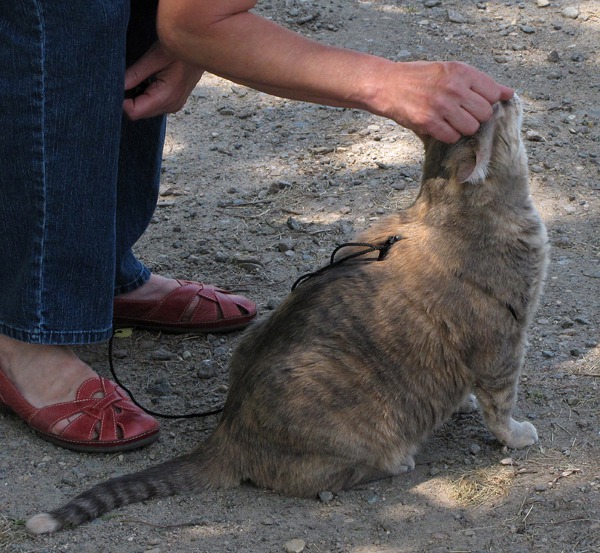 Not long after Morton we found the Byway we were seeking and turned off on gravel. Louise used her cell phone to call up the website for the byway (
Minnesota River Valley national scenic byway)
and provided a commentary for the road.
We're resourceful!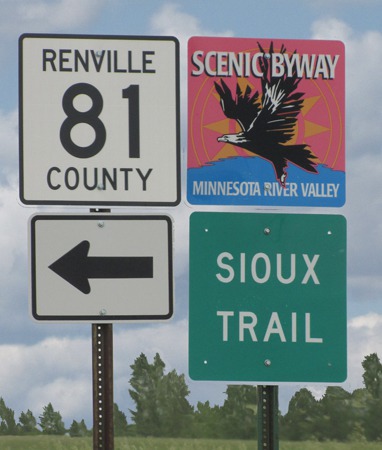 The sign above was from later in the day, but it's the general idea of where we were driving. The road runs along the edge of the Minnesota River in a valley that must have been highly sought after for the access to water and rich topsoil. We found the byway at interest site 45, Birch Coulee Battlefield.
US-Dakota War of 1862: Of course, the Dakota Indians were inconveniently there first, but that didn't stop the hardy pioneers from taking their land. Later on, between 400 and 800 of those pioneers would pay the price when the Dakotas, angry about repeated treaty violations, burned their farms and killed them.
From the website: "The Sioux held an uprising (also known as the Dakota Conflict) in 1862 against the United States Army. It began along the Minnesota River and hundreds were killed. It is said that between 300 and 800 settlers were killed, making it one of the largest death toll of civilians.
One reason for the uprising of the Sioux tribe was that the Dakotas were not being paid the money promised to them for their land. They were cheated out of over three million dollars as well as not receiving the food promised them. Failing crops also helped add to the problems. The payment for land finally arrived two days after the conflict began, but it was too late. Convicted of murder, thirty-eight men of the Dakota Sioux tribe were executed. The government also decided to close down the reservation and to cancel all previous treaties signed with the Sioux tribe."
Another shameful and unresolved chapter in westward expansion. But now, the valley is tranquil, bucolic, and lush.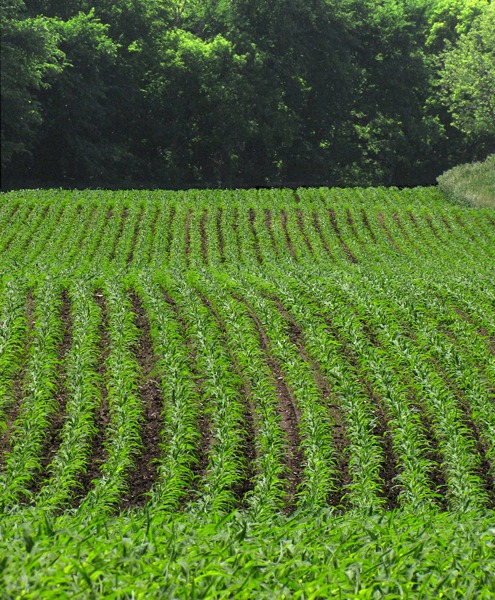 We came around a corner to an unusual sight -- four vultures sitting in a field, looking about half asleep. I guess even vultures need a soaring break occasionally. They were probably enjoying the sun as it sterilized their naked red heads after a day of carrion feeding. We surmised that you seldom see them beak to beak because of their breath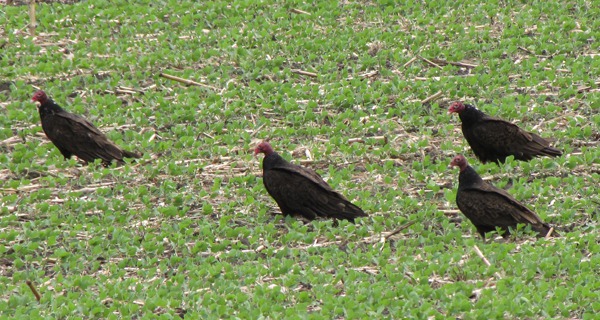 We came to a memorial for the Johan Schwandt family that perished in the US/Dakota war. The sign tells the story of a captive (one of the few survivors) who was adopted by a Dakota woman who had recently lost her child.
Aftermath: After the war, hundreds of Dakota died of starvation and disease in the camps where they were placed -- another war with no victors. The survivors, mostly women and children, were force-marched through a Minnesota winter to a
concentration
camp at Fort Snelling, near the present day Minneapolis airport.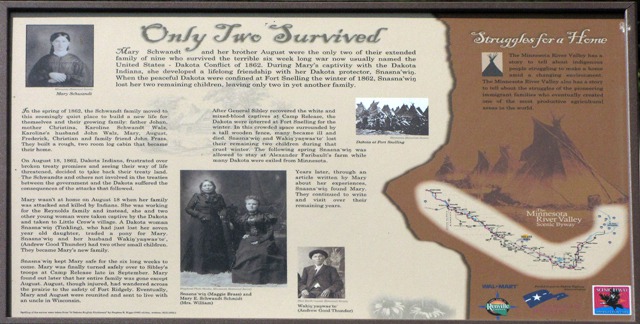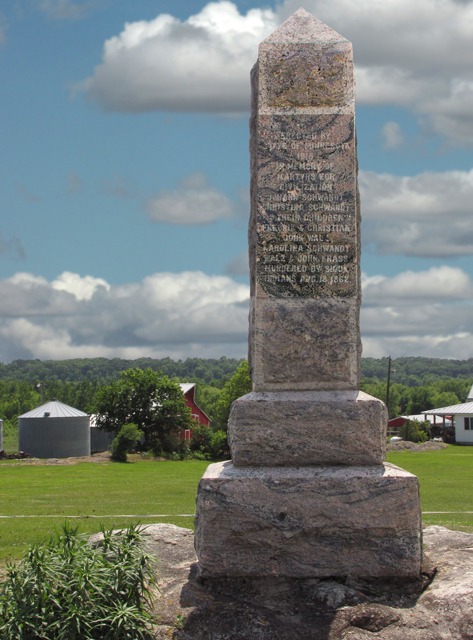 Further along the road we saw the foundation of the three-story stone house the local Indian agent Joseph R. Brown had erected. The warriors spared his family because of his wife's Native American heritage but burnt their house to the ground.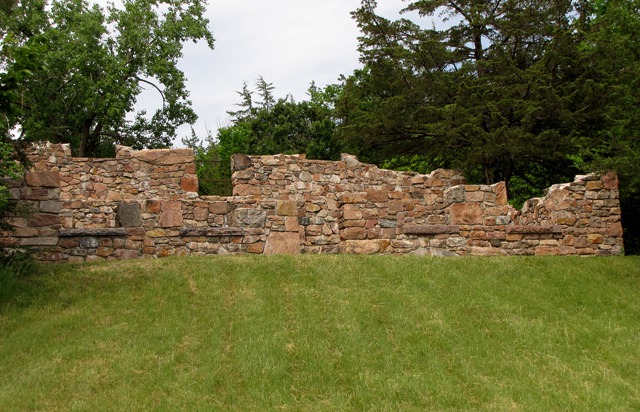 Near the Joseph R. Brown House we saw a shell leaf penstemon occupying a nice dry cut bank. The cool wet spring produced flowers as big as our thumbs!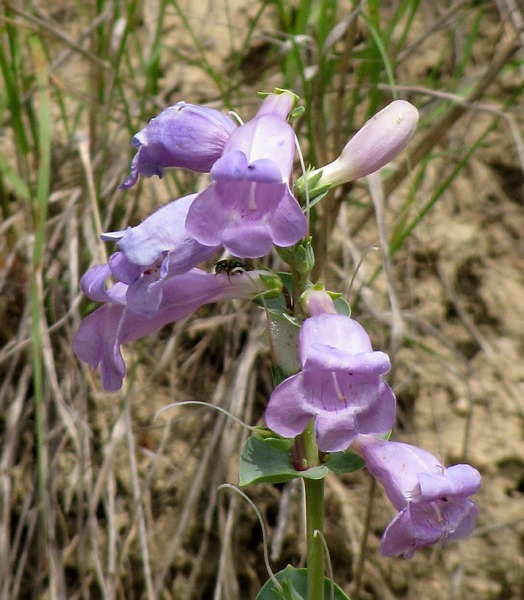 Around the corner and another young buck whitetail in the road stopped for a second before melting into the trees.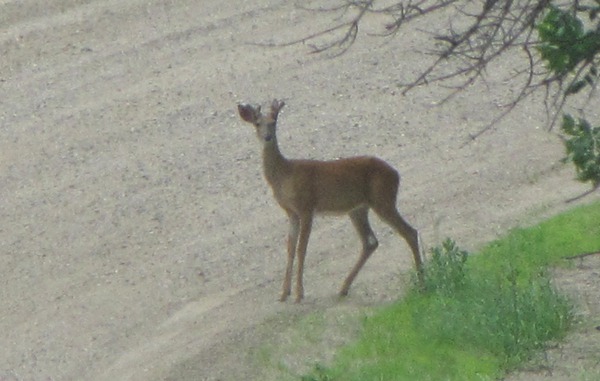 We saw what we at first thought was a fishing boat in a small river-side pond, of which there were dozens in the valley. But it turned out to be a pelican sitting on a rock. Too far away to get details, but interesting to see, nonetheless.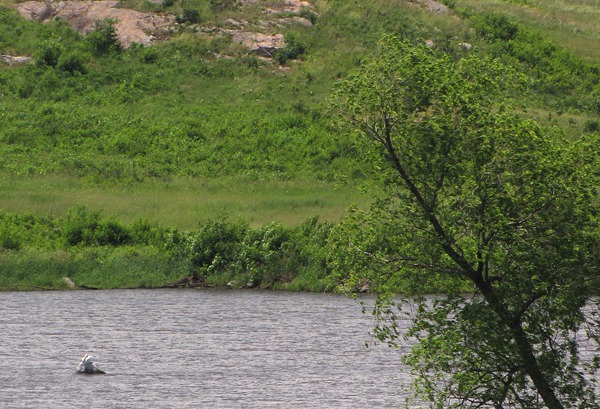 Granite Falls and Environs: We ran out of gravel and continued to follow the Byway on small paved roads that eventually lead us to Granite Falls. I had high hopes for Granite Falls -- having been to Granite Falls in Washington and actually seeing a falls going over granite, as one might be forgiven for expecting. But in Granite Falls MN, not so much.

The byway website described two State Natural Areas protecting big granite outcrops with special lizards and all manner of stuff like cactus; they sounded very intriguing. So was there a Granite Falls on the river? The reality of it was that there were no signs in town that we saw for the falls. We stumbled on it by accident trying to find the granite outcrops after getting burgers to go at a Hardees in town that we couldn't really recommend. There was parking for two cars where the power plant house was at river's edge at the falls, and they were both taken. And it was raining. So no Granite Falls falls pictures, although a huge flock of pelicans in an eddy below the falls would have been a great shot -- but we were limited to a glimpse of it as we drove by at highway speed.

Gneiss Outcrop Scientific and Natural Area: From the byway website again: "Gneiss Outcrop Scientific and Natural Area contains gneiss outcrops, formed approximately 3.8 billion years ago, among the oldest known rock on the earth's surface. This SNA's significance steadily increases as other outcrops along the Minnesota River are exploited for granite mining, housing, and recreational use. These pyramidal outcrops along the Glacial River Warren Valley rise to about 50 feet above the general level of the land, revealing parallel bands of gneisses.

Granitic gneiss is light-colored, pink to red; the less common hornblende-pyroxene gneiss is darker, ranging from gray to black. Garnet-biotite gneiss appears in dark and light gray variations. In addition to these metamorphic rocks, the outcrops reveal igneous rock complexes, formed by heat and pressure below the earth's surface. A natural lake lies between the two major rock outcrops, providing a stunning contrast to the adjacent rock cliffs. The very rare Great Plains prickly pear and brittle cactus can be found on dry rock; the rare Carolina foxtail, rare little barley, and mousetail grow in shallow depressions among the outcrops."

Unfortunately the directions on the website didn't quite work, and while we found the general area, we found no way in. Too bad!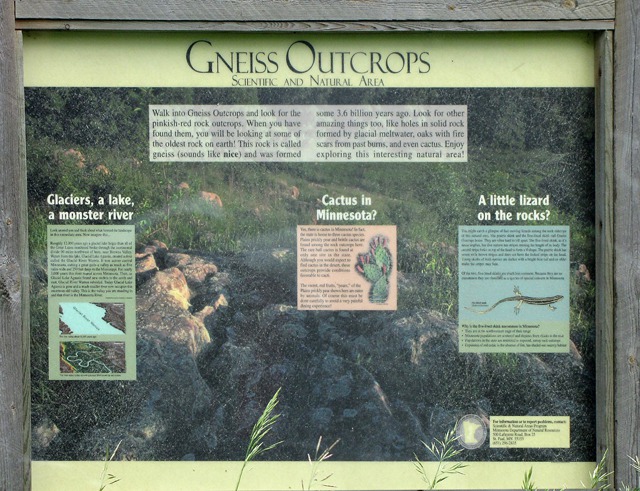 We meandered down a dirt road that ran alongside the geologic area and saw a hunk of granite -- just to keep the long meander from being a total granite-less waste of gas.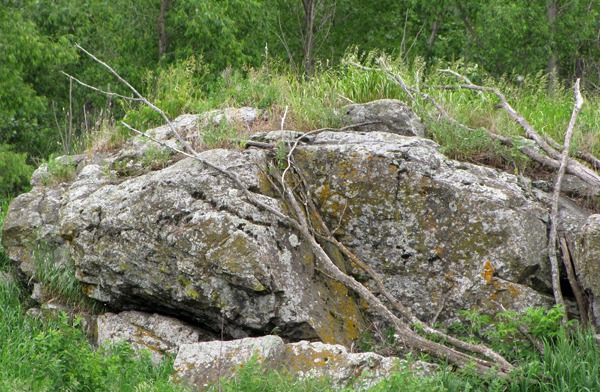 Near the visible granite, Louise spotted one heck of a lead plant colony. It was monster-sized compared to the lead plant we see in South Dakota -- soil and moisture!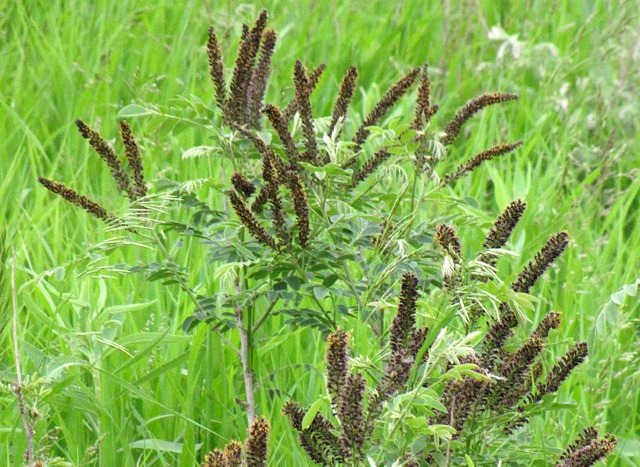 So off to area two.


Blue Devil Valley Preserve: Again, from the byway website, "Blue Devil Valley Preserve contains a granite outcrop community within the Minnesota River Valley that supports one of the largest known populations of the rare five-lined skink. Normally occurring further east, this species of lizard occurs only in widely separated areas this far west. Open, sunny bedrock exposures with loose surface rock and little or no vegetation these features make up the preferred habitat of the five-lined skink. Summer visitors may see these little lizards basking on warm, sunny granite outcrops.

Xeric prairie species, such as the brittle cactus, little bluestem, harebell, and pasque flowers, are common among the outcrops and scattered bur oak. Management at this site is focused on removal of eastern red cedar and other woody plant species that have encroached on the site in the absence of fire. Prescribed burns are also enhancing the prairie community through control of woody species. The Nature Conservancy gifted this site as an SNA to the State of Minnesota. Spring through fall is a good time to view the wildflowers."


Well, no. When we got to the spot where the trailhead was supposed to be, there was a pullout with some conservation trucks in it, but the "trail" was only a crushed down path of knee-high wet grass recently made by the conservation workers that lead into a swamp. We weren't "foot-geared" for a swamp slog, and it was still threatening rain, so we opted for a road-side lunch-break of soggy take-out Hardees burgers, greasy onion rings, and torpid fries. At least we saw more granite, and Louise found some lovely little road-side flowers.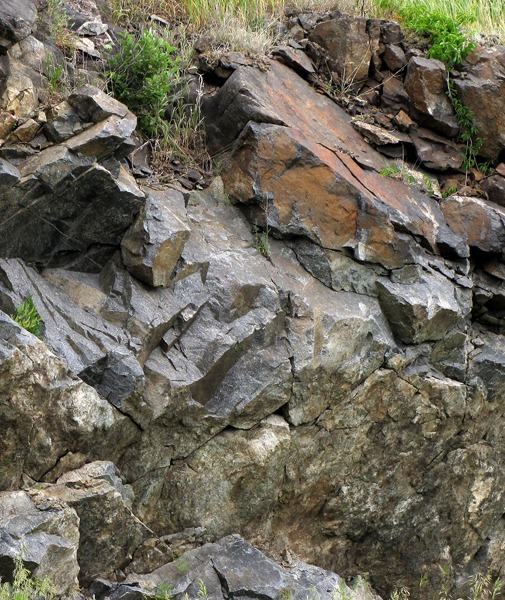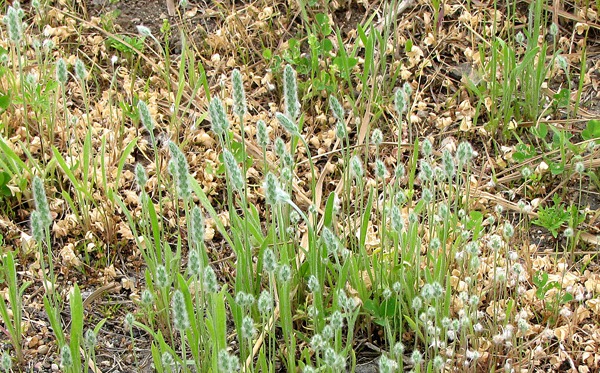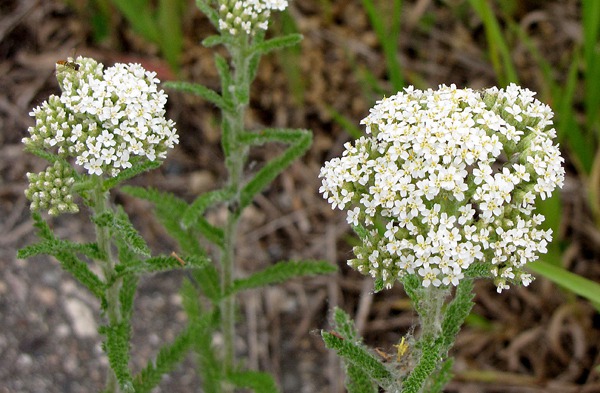 As we drove back up the road to turn around to head for Marshall, Louise found a perfect example of a "Kentucky Blue Grass Desert.

As we passed the granite cut near the main road, we saw a rock-a-bye-baby that reminded us we need to start looking for a motel.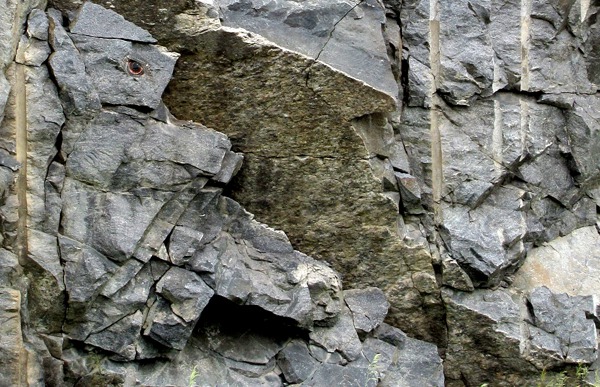 We got to Marshall and looked at a few motels and ended up (by accident, we found out the next morning) at an AmericInn. After getting soaked $50 for Leesha two years ago at the AmericInn in Medora, ND, (and getting a mealy-mouthed response from corporate when we complained) we had avoided them ever since. But this one was nice and had a pet room near the door.

So we unloaded Sassy, and she immediately made herself at home -- her first motel!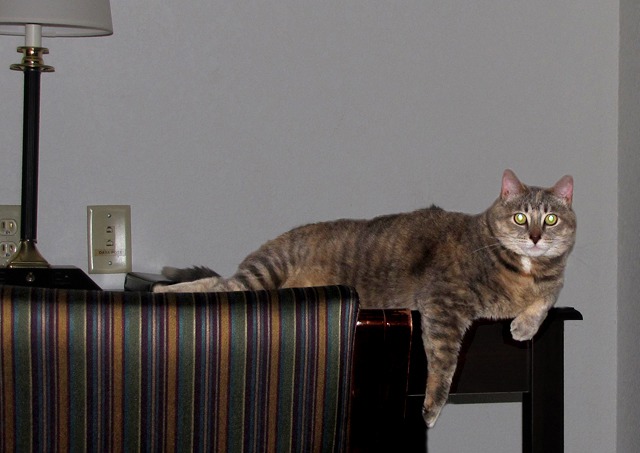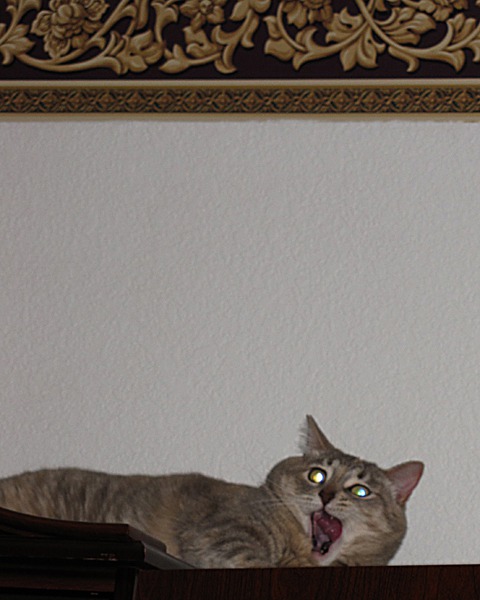 It wasn't until we checked out the next morning that we discovered they don't take cats. "Allergies" the woman at the front desk said. They take dogs. Dogs make my eyes water; they bark in the rooms; they stink, and they poop on the driveway. Phooey on those AmericInn guys.

Text by Brian and Louise, Photos by Brian. Text and photos copyright 2011 Goin Mobyle, LLC.