Onward to Bozeman, by Brian: 15 April 2010: We left Miles City MT on the way to Bozeman MT after driving there from Rapid City via Ekalaka the day before.

Outside Miles City, we turned off I-94 in Forsythe to find some gravel. Furry Purry (aka Leesha, our traveling cat) for reasons unclear, loves gas stations and motels, and she wanted out to explore the combo gas stop and weenie stand in Forsythe.

We gassed up; Kitty met a couple people at the gas station including a startled guy who was headed into the bar to start his day's work.

"It's a cat!" he exclaimed.

"Yes, it is," Louise replied. With that he opened the bar door and disappeared inside alone, as much as Leesha wanted to follow him in.

Big Porcupine Creek Road: While US HWY 12 was entertaining enough, there was too much traffic (by Eastern Montana standards that means a pickup every five or ten minutes) and it was, after all, pavement, so Louise found a "long cut" up sparsely inhabited Big Porcupine Creek.

This is another spot, like the Miles City cutoff from Ekalaka that a guy would probably not want to founder on much. On those vast stretches, it's easy to imagine what the country might have been like 200 years ago -- the creek bottoms wide with cottonwoods full of white-tail deer, wetlands stretching either side of the creek for hundreds of yards and full of waterfowl, bison, elk, pronghorn, grizzlies and wolves roaming the vast sweeps of prairie. In truth, it wouldn't take much to bring that back in some of these areas.

But with water worth gold, most of the cottonwoods and all the willows along the streams had long been eradicated to free the water for cattle and some small amount of hay irrigation.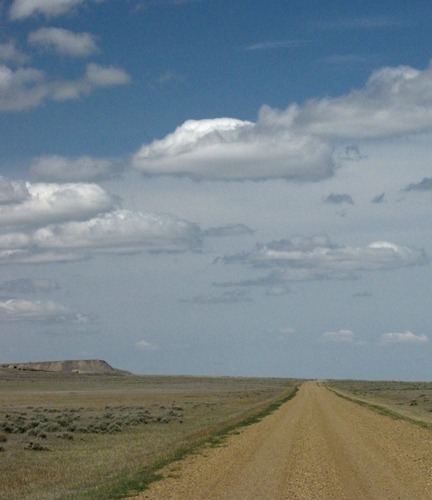 After about 40 miles from pavement, we came across an old homestead on the banks of Big Porcupine Creek that had seen better days. That was some hard livin' out there in that heat and wind and lots of country between grass blades. With highs that reach 110 degrees in the summer and with lows typically average well below zero in January -- and that can reach minus 50 (not counting the wind chill) in the winter, this country ain't for the faint of heart. Rainfall averages a measly 12 inches annually..
We imagined that some years the creek probably didn't run much water, and then damn hard times were afoot.
Ingomar's Former Glory: On the way to Roundup, we found the town of Ingomar, which, in its heyday, had been the real deal. According to the sign outside town, 2,500 homestead filings were done in the area between 1911 and 1917, and nearly two million pounds of wool were shipped out of Ingomar annually on the newly finished Milwaukee Railroad back at the turn of the 20th century. Now, not so much.
Drought, the Depression, and The Ingomar Fire of 1921 pretty much squelched the homesteading zeal.
Searching in Vain for Mason Lake National Wildlife Refuge:
After Ingomar, we drove into Roundup mid-afternoon and tried a couple forays to find
Mason Lake National Wildlife Refug
e
on U
S HWY 87 north -- roads like Grazing District Road that tended to wander, then peter out. Finally we looped back to US HWY 87 on Hochmuth Road and drove back into Roundup.
At the very edge of town, we saw a big pair of binoculars on a brown wooden sign -- a typical indication for a Refuge -- more or less pointing down Golf Course Road. A check of the map confirmed that Golf Course Road went to Mason Lake, so we set off once again. Now it was around 4:00 pm.
We drove until the road started to peter out so we stopped at a handy overlook (wide spot in the road) and had a nice picnic while Leesha prowled in the grass until the wind drove her back to the car. Then we took off on a couple of tire tracks through the grass, which turned back into a gravel road by and by. No sign of the lake. No more brown signs with binoculars either. No sign of much of anything, in fact, except sage brush and roadside grasses being buffeted by a brisk prairie wind. And cows and mud!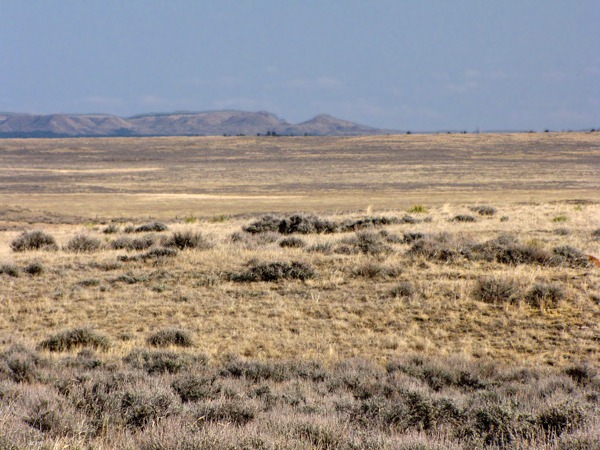 The map alleged that Mason
Lake
was somewhere in the middle of the photo above. If that was true, it was a mighty thin lake. We drove on until the road turned to mushy sand, then we drove on some more.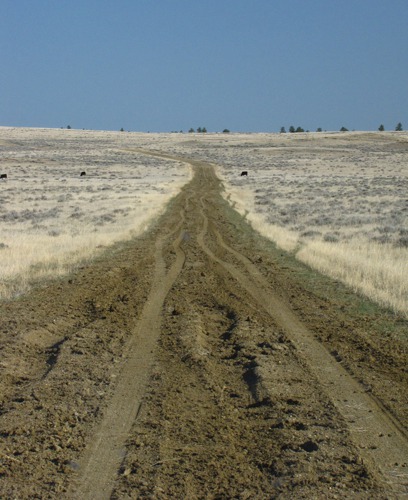 Finally we cleared the mushy sand road and got back onto some decent gravel. Encouraged, we topped a ridge and looked off about twenty miles to the horizon. Funny, it looked just like the other Mason
Lake
.
Apparently, if we'd kept going on the increasingly questionable Mason
Lake
Road, we'd eventually have hit Snowy Mountain road -- another alleged approach to mythical Mason
Lake
. But by this time it was nearly 5:00 pm, and we had to scoot on to Bozeman.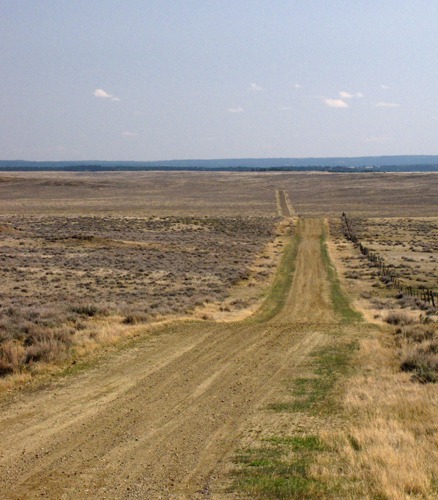 We retraced Golf Course Road back into Roundup and got back on US HWY 12 headed toward Harlowtown. There is still some empty out there too.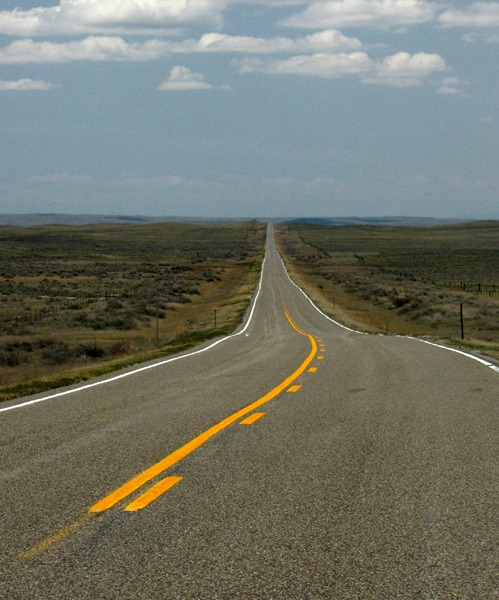 Musselshell River Country:
This country was wet, wet, wet compared to that country between Roundup and Miles City (and far wetter than Mason
Lake
, as it turned out.)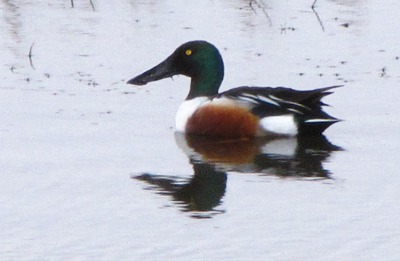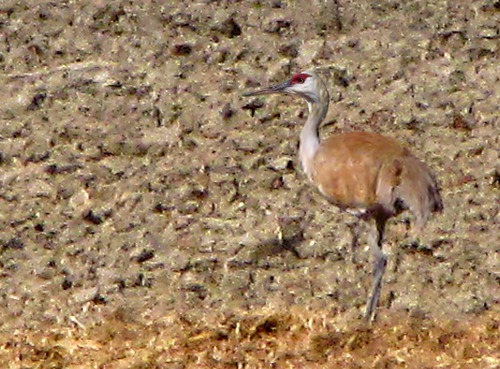 Crazy (Woman) Mountains: In Harlowtown, we turned south on US HWY 191 and headed for Big Timber as the sun was starting to set and the deer were coming out to feed.
The name Crazy Mountains is said to be a shortened form of the name "Crazy Woman Mountains" given them, in compliment to their original
Crow
name, after a woman who went insane and lived in them after her family was killed in the westward settlement movement

.
The Crow people called the mountains
Awaxaawapìa Pìa
, roughly translated as "Ominous Mountains", or even rougher and less accurately, "Crazy Mountains". They were famous to the Crow people for having metaphysical powers and being unpredictable—a place used for vision quests.
After a roadside stop to watch the last sun disappear behind the Crazies, we hot-footed it for Big Timber and I-90 into Bozeman. For us, getting in there before 10:00 pm was a win. And even with the lost grail of Lake Mason unfound, it was a very good day on the road.
Brian, with Photography by Brian Text and Photos copyright Goin Mobyle LLC 2010