Day Three: We're putting in a Day 3 so people don't think we skipped a day -- but we didn't do much except visit good friends and relatives. All in all, a great day, but not much in the way of photos or travel. We did make a trip to Costco in Bozeman, which left us wishing Rapid City had one. But alas -- we're getting a second Walmart instead. Boo.

Day 4: Yellowstone National Park, by Brian: On Saturday my brother Allen pointed out that it was "free day" in Yellowstone National Park, so we saddled up and rode to West Yellowstone MT to dig into a "spring in the Park experience." On US Hwy 191 through the Gallatin River Canyon, which can be bumper-to-bumper traffic headed for the Yellowstone Club or Big Sky, the traffic was relatively light -- partly due to the fact that we were driving in the pouring-down rain. So that was a mixed blessing -- dark skies and light traffic.

Gallatin River Canyon:

Along the Gallatin River, not too far from the Deer Creek bridge, Louise spotted some "suspect" ducks in the river, and we turned around and went back to investigate. They were "suspect" because they weren't something we'd seen a lot of (we no longer turn around for mallards, which are so common and evolutionarily

adept that they can nest in a road-side ditch).




The pullout was a hallmark of "The New Montanan." One rig with a trailer took its place in the very middle of the turnout leaving very little room for anyone else. I remember when I was growing up there, it was just understood that you pulled ahead and left room for others to park. Not any longer -- now it's more about hacking out "your share" of Montana at everyone else's expense. Makes me sad to see the loss of wilderness manners.




We squeezed into the room that was left and went over to check out the ducks -- which turned out to be a pair of Common Mergansers (

Mergus merganser).

I didn't realize it until we checked out the bird book that the male and female of the Merganser tribe look like entirely different species. The male was huge -- and the female had a feather do-wacka-hair-do and a half. Entering Yellowstone Park, Still Along the Gallatin River: Further on, just at the Park boundary, beavers had been at work. At one time, this area was rife with moose -- the tall willows made perfect habitat. Over the years, the elk browsed the willows to nubbins as they tried to stay alive in the Yellowstone winters without the benefit of thinning-the-herd predators. There appears to still be a "healthy" browse being put on the willows, but we haven't seen moose in the area for years. Madison River Just Outside Yellowstone Park: We drove out onto the West Yellowstone Flats around, and south of, Hebgen Lake, just outside the Park. The rain was now a light drizzle. We soon saw "Wildlife in the Road" signs, and up ahead, spotted a Yellowstone traffic jam.

camaraderie

turns out to be a series of complex social interactions when you stop the engine and get out, listen, and observe. Back Into the Park Along the Madison River: After the Bison Jam, we drove on to West Yellowstone and through the official West entrance into the Park. Free Day inspired a fair number of visitors, many from neighboring states, but it was still a relatively peaceful day in the Park. Not long after we found the Madison River again, we spotted a trumpeter swan meandering along the shore. It's always a thrill to see them, large, graceful, and back from the brink.




I was at Madison Junction one spring in the '60's and saw one of the most amazing sights I've ever seen in the wild. A large herd of elk were grazing at the edge of the timber on the far side of the river when a grizzly charged out of the timber at full speed, closed on one hapless elk that was fleeing as fast as it could, and brought it down with one swipe of its paw at the haunches -- which rolled the elk, and then the bear was on it. I was there with a friend, and we just stood open-mouthed watching that little drama unfold about 500 yards away. It reminded me to never bother to try to outrun a grizzly-- if an elk in its prime couldn't do it, a human stood no chance.




Anyway, back to the ridge behind the road -- the boulder factory. It's fascinating when you look at it up close.




The Grand Loop Road

Up the Gibbon River: At Madison Junction, we headed up the Gibbon River on US HWY 89 -- the Grand Loop Road -- on the way to The Grand Canyon of the Yellowstone -- luckily open despite the blanket of snow. This road is closed all winter.




On the canyon wall not far from the junction we saw a sign that said "Tuff Cliff" and in all the hundreds of times I'd driven by there, I'd never stopped to see what was so tuff about it. As it turns out, the "tuff" in "Tuff" is a solidified dense cloud of volcanic ash. (Yellowstone is a nasty toxic hell-hole when it feel like erupting from its massive caldera -- which it periodically threatens to do. It spewed volcanic material hundreds of feet thick all the way to Washington State last time, so one wants to leave the Park when it starts.)




The tuff enveloped boulders when it cooled, and is now shedding them down slope when erosion eats a hole in their pods or earthquakes jar them loose. So tuff isn't so tough after all -- it's losing all its little boulders.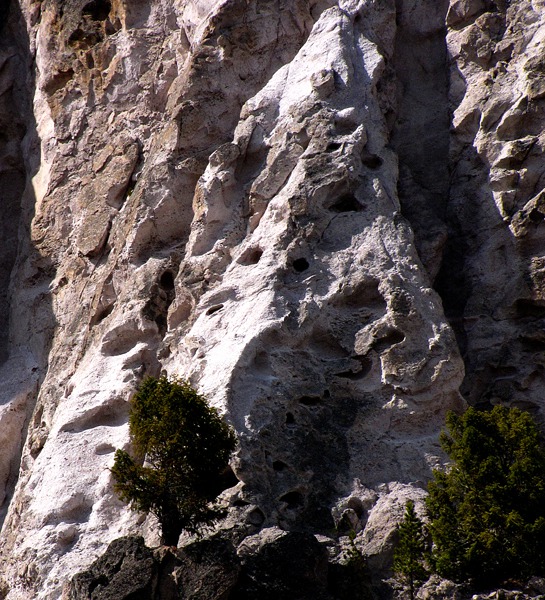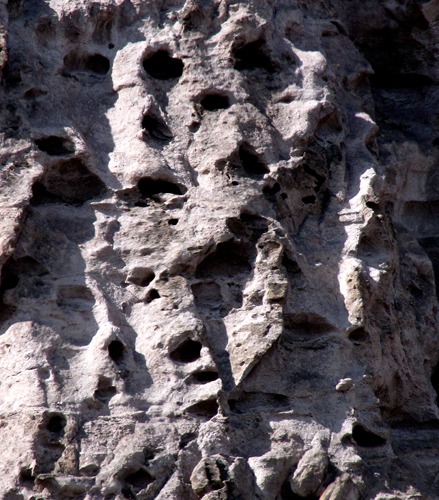 The next stop on the trip was Gibbon Falls. So we stopped. However, according to the road construction foreman who came and chased me right-the-hell off, there was technically "no stopping" where we stopped. They are doing a huge reconstruction of the road and parking area at Gibbon Falls, so if you plan to see it, prepare to park a mile away and sneak back, or "wait for a year and a half," like the foreman advised me.
Gibbon Falls: In olden times, they hacked the road past Gibbon Falls out of a cliff face that keeps trying to shake itself free of said road. So it's non-trivial to re-construct it into a more permanent fixture of the Park. And in olden days, (and up until this spring) there was parking for only about 30 cars at the falls, and typically 100+ cars wanting to stop. That made for what the Park Service calls "issues." Now it looks like they are going to easily
accommodate
100 cars in a new parking lot, and the dad-gummed road is moving way over to the other side of the canyon with new bridges and everything. Hence, "wait for a year and half" to go see it. Grand Canyon of the Yellowstone: We headed for the Grand Canyon of the Yellowstone. On the way, we went past the Gibbon Meadows area -- now mostly still under snow, but with a few signs of early life -- including a frog chorus that attracted attention. Lower Falls of the Yellowstone River: And after the walls came the
Lower Falls still partly encrusted in ice. We walked through the snow out to Artist's Point where there were a couple people with lots of camera gear. I was joking with one guy from Manitoba that there was only one perfect spot to really photograph the Lower Falls from
Artist's
Point, and I was standing in it. He was edging closer and closer with his tripod, and finally I said, "I know I'm in the perfect spot, and for a small consideration, I'll move over one foot," and he started laughing. I moved over a foot, and got some very good additional shots too, and he set up his tripod in "the perfect spot" and got his shots.
Clouds and Sun: I was half dozing when I realized there was a laughing elephant outside the sunroof.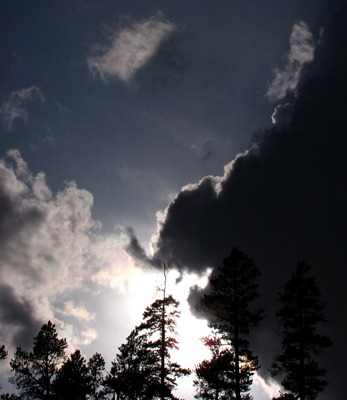 Soon one of those clouds right out of Da Vinci drifted over.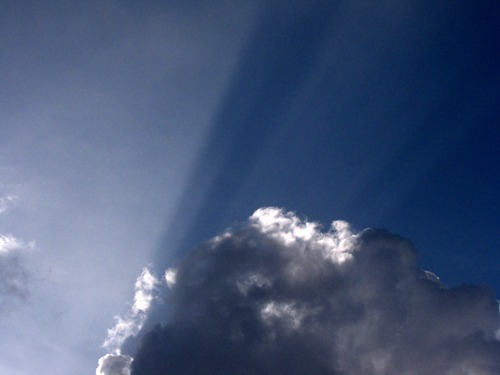 We left the Grand Canyon of the Yellowstone area and headed for Mammoth and Gardiner, where we hoped to find dinner. As we drove to Mammoth, the sun was lighting up the peaks and ridges on their west-facing slopes. Sun at last -- the weather had cleared considerably, stretching the day and the photo shooting light for us.
Roaring

Mountain

Geyser: We drove past Roaring Mountain, which as I recalled, used to roar more. It was more of a low growl now -- the water table in the Park keeps shifting and the geysers, they come, and the geysers, they go.
Mammoth WY to Gardiner MT: US HWY 89 continued north along the Gardiner River, and the Grand Loop Route turned east to the Lamar River Valley. We hoped to spot a few mountain sheep along the Gardiner River, but didn't see any this trip.
Brian, with Photos by Brian. Text and Photos copyright Goin Mobyle LLC. 2010.