Day Fifteen -- Torrington WY to Rapid City SD, 19 Aug 2010: Last night when we pulled into Torrington WY and checked into the motel, there was a sign in the room that said, "If the noise from the coal trains bothers you, call the front desk for earplugs." Luckily, we didn't need them. This morning before we headed out, Furry Purry took a little stretch break to chase a few grasshoppers on the sidewalk in front of the motel. Torrington is a combination railroad town, ag, and college town, and on the way out, we drove by the ubiquitous grain elevator and corrals.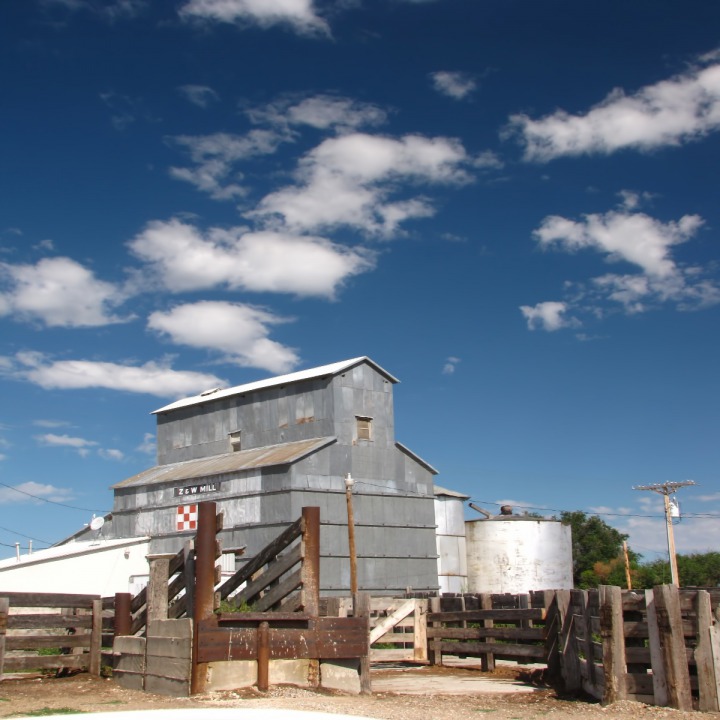 The prairie outside town is characterized by broken country and rough rock outcrops.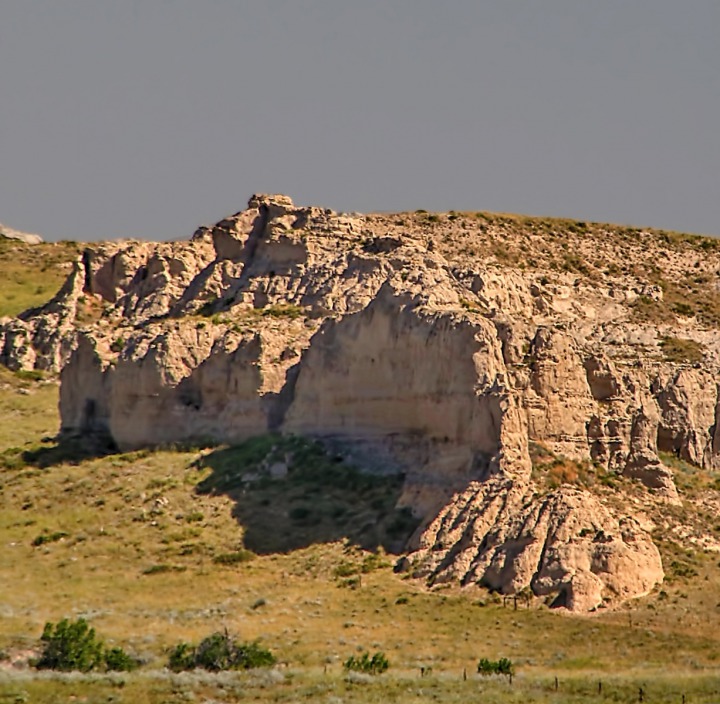 Here and there are remnants of what used to be lush cottonwood draws, now greatly shrunk by cattle grazing, and backed by series after series of mesas, buttes, and plateaus.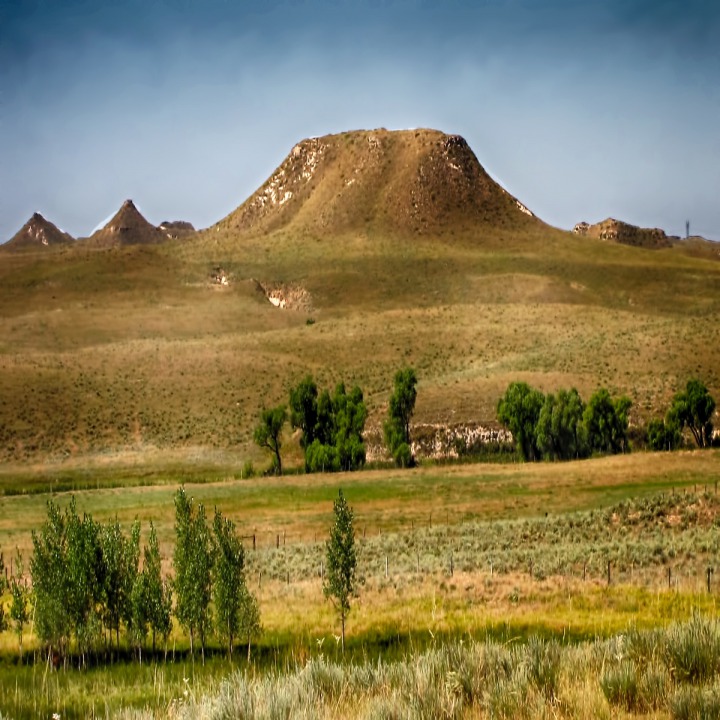 Off the Pavement at Jay Em
. We left the pavement of US HWY 85 and turned back west through the little wide spot in the road called Jay Em. There was a still a little microcosm of the riparian area that would have been typical of these cottonwood groves before pioneer days.
Easy Enough to Get Lost --
There are dirt roads in abundance on the eastern Wyoming and western South Dakota plains, and before GPS (and sometimes even now because the map names often don't "align") a fella can get plum turned around out here. Communities (in this case, the Moore Springs Community) often put up their own scattered sign posts just to help those trying to find a particular ranch or small town orient themselves.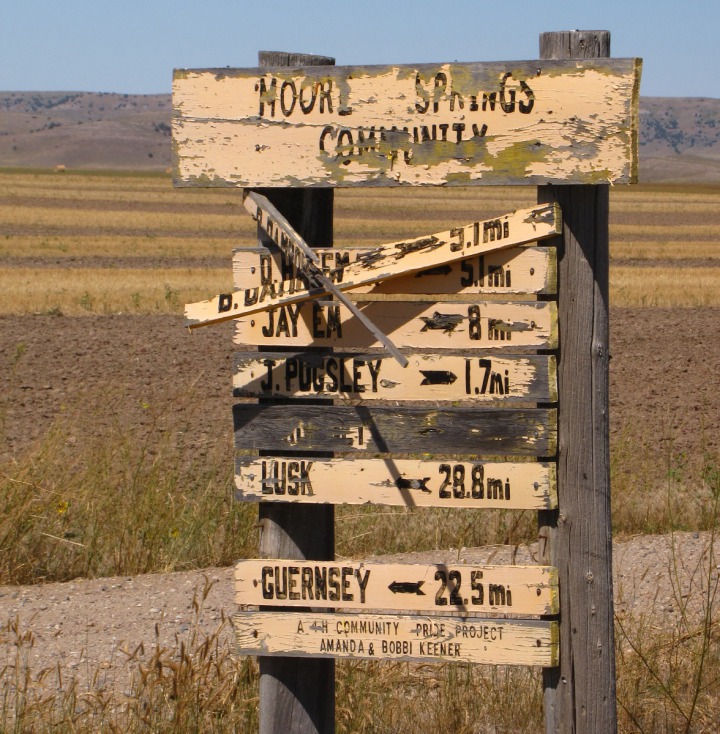 At Moore Spring We Took The Rawhide Butte Road --
Also known as County Line Road in our Benchmark Maps Atlas. It's not uncommon at all for a road to have three or four names depending on which reference you are using. So it's good to pack sandwiches and have lots of gas, and a general sense of which way is west when you are out in this country. It's not a bit unusual to find yourself, as we did, on the road way less traveled.
It Gets Just Plain Hot
-- It gets hot with very little shade. So every small shadow becomes precious.
You Have to Look Close for Entertainment --
We've heard a lot of people who have meandered through this country say, "Man, there is NOTHING out there!" And to them, there probably isn't. But if you want to really slow down and look, it can be very entertaining and interesting. We were probably 25 miles into the trip home, and we'd already stopped and seen all the scenes above. And we hadn't put a dent in getting home yet. All around we found interesting shapes, shadows, and rocks.
Cottonwood Oasis --
Periodically, even in the hot dry environment, you'll find these cottonwood oases scattered across the broad dry sweep of the plains, like these along Lance Creek.
Red Canyon Rendezvous
-- Brian had spent some time with an Edgemont rancher who had converted his operation to organic beef, and so he knew of the Red Canyon Road. So soon after we drove through Edgemont, we turned onto that road, and started the last of our numerous dirt road side trips of the day. Not far inside the canyon, there was a "watcher in profile" on the canyon wall.
Text by Brian and Louise. Photos by Brian. Text and photos copyright Goin Mobyle, LLC, 2010