Day Five -- The Million Dollar Highway CO, 9 August 2010: After spending two days at the Black Canyon of the Gunnison National Park outside Montrose, we headed for Pagosa Springs via Ouray, Silverton, and Durango on US HWY 550, also known as the Million Dollar Highway. We drove in a hard rain most of the way, but even that didn't take away from the spectacular scenery and color that all the mineralization provided in the area of Red Pass between Ouray and Silverton.





Ridgway CO --

One of the first landmarks we hit outside Montrose was Ridgway, with a state park, a lake, and a massive ridge beyond. We don't know where they lost the "e" in Ridg(e?)way over the years. It sits just shy of 7,000 feet. Ridgway started in 1891 as a link on the Rio Grande Southern Railroad and served as a supply center for the mines scattered through the San Juan mountains. Rail service stopped in 1951. The movie

True Grit

with John Wayne was filmed here in the 1970s. The nearby recreation area surrounds a 1,000 acre reservoir on the Uncompahgre River.

Ouray CO --

One of the first things we noticed about Ouray is that mining continues apace -- it appeared they were mining gravel from a creek bed as we drove into town -- but we actually have no idea what they thought they were doing in there.

Chief Ouray --

The town is named for Chief Ouray, a southern Ute chief. He was born 13 November 1833 in Taos NM to a Jicarilla Apache father and a Ute mother. On the night he was born, there was a meteor shower. This event influenced his parents to name him Ouray, which means "the arrow."




The downtown has a lot of old mining era buildings with restaurants and other tourist attractions such as hot spring pools. Ouray has somewhere around 1000 permanent residents. US HWY 550 south snakes its way up the face of the hill in the background at the end of town and then into the canyon beyond.

Million Dollar Highway --

There are several stories about the name for US HWY 550 -- The Million Dollar Highway -- what it cost per mile to build it back in the day when a million was real money or it was paved with gold-bearing gravel or that's what they would have to pay you to drive it in a blizzard. It's what one might call a "hand hewn" highway -- hands and a whole bunch of dynamite. It started out as a toll road built in the 1880's by a guy named Otto Mears who must have been one tough old dude with a penchant for high explosives. At the behest of surrounding county governments, he eventually built 450 miles of toll roads in the San Juan mountains before switching his interests to building railroads.

Mining -- All along the road, you see evidence of poking and probing to see if there's something worth hauling out.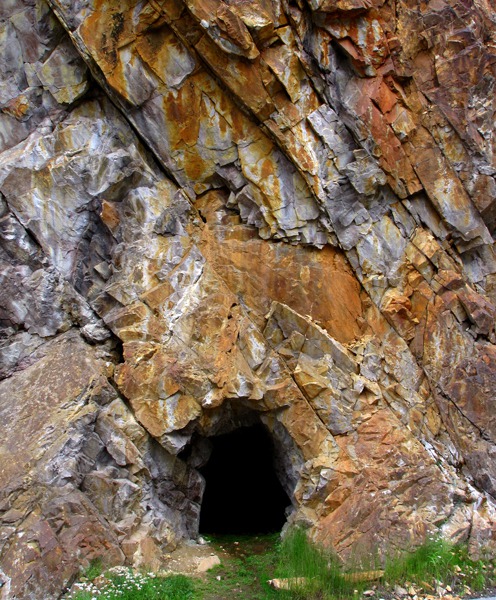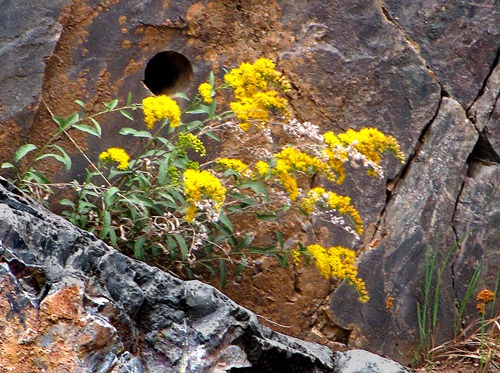 Many mines here worked small, pipe-like ore bodies of silver, copper, and lead. Underground, mine tunnels honeycomb the area. The area is obviously highly mineralized, and now the rivers in the area run in Technicolor as toxic minerals seep out of the abandoned mines. Don't drink the water.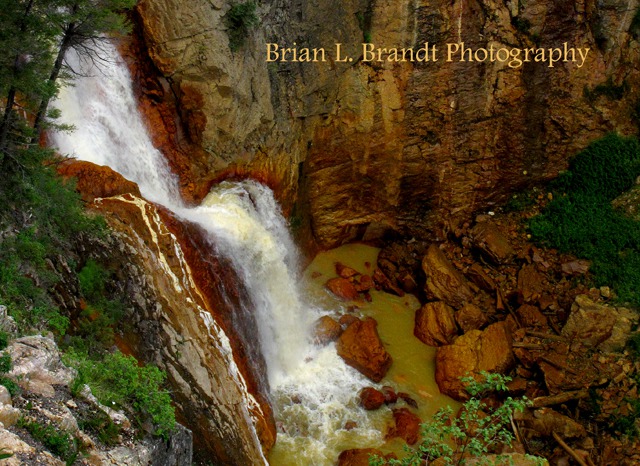 Red Mountain Pass --
As we kept climbing, the clouds swirled the peaks on both sides of the road.
And more evidence of old mining activity abounded.
Silverton CO --
Here the road enters the Silverton Caldera, one of many formed in the San Juan Mountains. Calderas develop during or after explosive volcanism, when a roughly circular area collapses into a partially emptied magma chamber below a volcano. This caldera has produced more than $150 million in silver, gold, lead, copper, and zinc.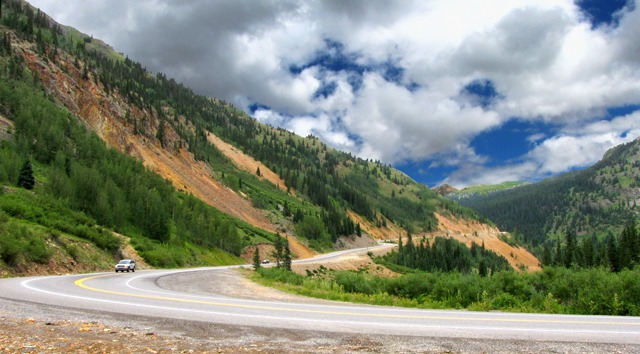 Up a side canyon right at this road curve were a couple of long and spectacular waterfalls and cascades.
Electra Lake and Road Construction -- The first was to admire Electra Lake and the peaks beyond it which would have been a challenge to see adequately even at US HWY 550 speeds, and the second was to talk with the woman holding the Stop/Slow sign. She drove 100 miles or so to this job every day, but it was only one of the three jobs she worked at every week which including managing a small dairy herd. Apparently, if you don't live in Denver, or have access to a trust fund, Colorado can be some tough livin'.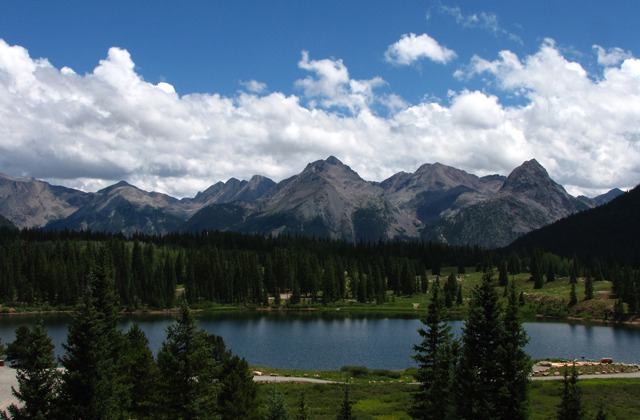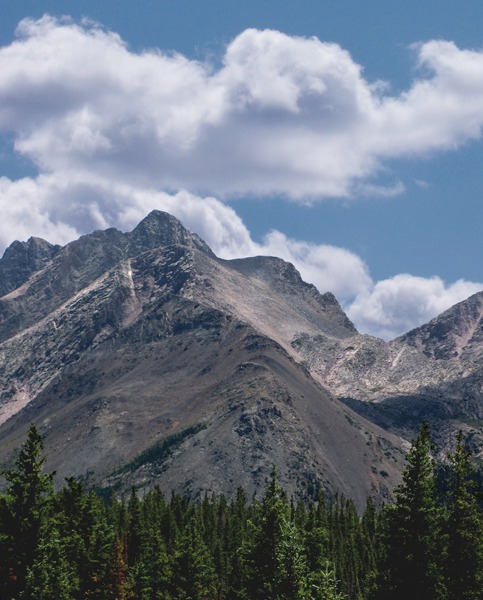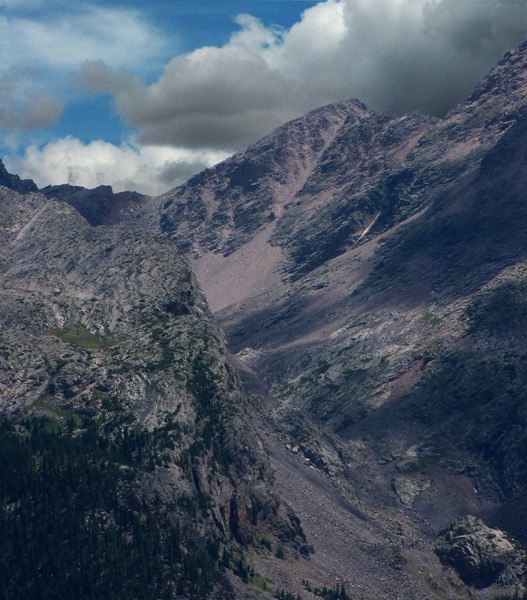 As we got closer to Durango, we saw several sort-of stand-alone peaks there that were very impressive -- one in particular, Engineer Mountain, loomed large. At just a tick under 13,000 feet, it dominates the area around it more than it would if it was just a high point on a 13,000-foot ridge other places in Colorado.




Engineer Mountain Hike -- From Trails 2000 (a non-profit organization based in Durango, CO): "this is a favorite hike or ride that is well marked and in close proximity to Durango, making it quite popular in the summertime. Engineer Mountain is the prominent "double" cone which can be seen when driving northbound on US HWY 550 beyond Purgatory in the San Juan National Forest. It is a fun and challenging mountain with awesome panoramic views in all directions from the summit, since it's nearly 13,000' and stands alone. The most direct ascent starts at Coal Bank Pass on Hwy 550 and goes up the Pass Creek Trail. While only 4.4 miles round trip, it's considered a difficult climb due to the narrow ridge, loose talus, and the exposed crux move." Also, be aware of lightning hazards during afternoon thunderstorms; it would be prudent to start your hike early.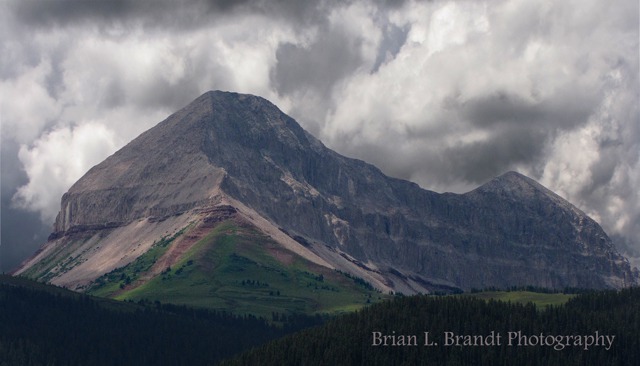 As we passed Engineer Mountain and dropped down into Durango, we decided that we'd dallied long enough and started to press on to Pagosa Springs so we wouldn't make it in after dark. You could easily spend a couple days making this drive -- if you are camera-inclined. Even on a rainy day it was amazing.

Text by Brian and Louise -- Photos by Brian. Text and Photos all copyrighted Goin Mobyle LLC 2010

Resources: Chronic and Williams. Roadside Geology of Colorado, 2nd ed. 2002;

Metzger. Colorado Handbook. 1992